Special Survey Report
Magazine Media Has Positive Outlook For 2019
A new Folio: reader survey finds plenty of opportunity for growth next year.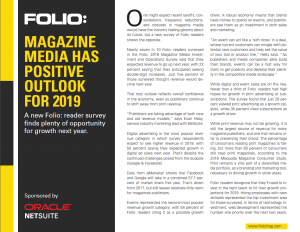 One might expect recent layoffs, consolidations, frequency reductions, and closures in magazine media would have the industry feeling gloomy about its future, but a new survey of Folio: readers shows the opposite.
Nearly seven in 10 Folio: readers surveyed in the Folio: 2018 Magazine Media Investment and Operations Survey said that they expected revenue to go up next year, with 22 percent saying that they anticipated seeing double-digit increases. Just five percent of those surveyed thought revenue would decline next year.
That rosy outlook reflects overall confidence in the economy, even as publishers continue to shift away from print revenue.